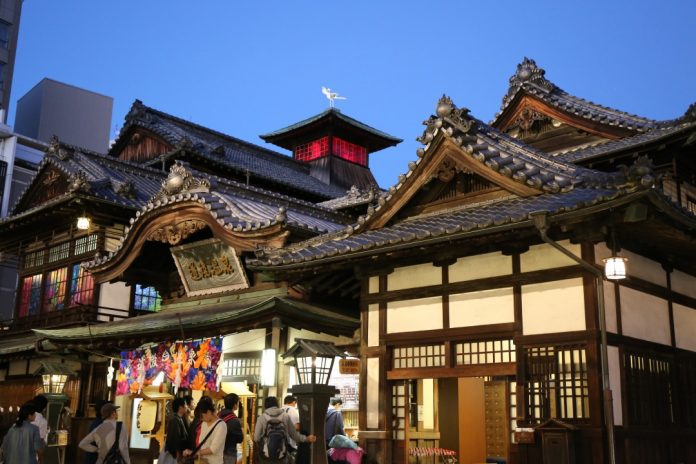 Hi, I'm Kenneth! This is an introduction of my hometown, Matsuyama city which is the prefectural capital of Ehime. I have lived here for two years as a college student. Let me show you three attractions of Matsuyama!
Matsuyama Castle
First of all, I must say I think the Matsuyama Castle is the No.1 castle in Japan. Located on top of a mountain, and the panorama view from the castle garden is fantastic! You have three ways to get to the castle; walking, a ropeway or a lift. It is around 30-minutes at a casual walking speed, so it is the ideal way to get here when you want to enjoy chatting with your trip partner. You would choose a ropeway or lift when you want to enjoy seeing the gradually changing scenery of the castle and the mountain.
Botchan train
Have you seen an old-style train like this one before? It is still running in Matsuyama today, and you can explore the central Matsuyama area. I always recommend taking this train once when my friends visit Matsuyama. In fact, it will be not such a comfortable ride (it is a secret!), but it must be a good piece of memory of your Matsuyama trip.
Dogo onsen
It is said that this is the oldest onsen in Japan. The building has gone through some renovations over the years, but the original structure remains the same. If you are an onsen lover, this simple, but historical onsen is the must-visit spot. It is also fun to have a stroll and try Matsuyama foods at a shopping street nearby.
By the way, it is important to take care in the onsen because the water is warmer than usual onsen and spa, and it could make you feel a little sick. I don't recommend staying in the water for a longer than a few minute.
Comment by GetYourKanji:
How was Matsuyama? The recommended way to Matsuyama is an airplane or a highway bus. When you search an accommodation, find it on Booking.com.
Interested in introduction your hometown in Japan?
When you want to introduce your hometown in Japan, please apply from this form!
Enter here about the detailed information for your article.