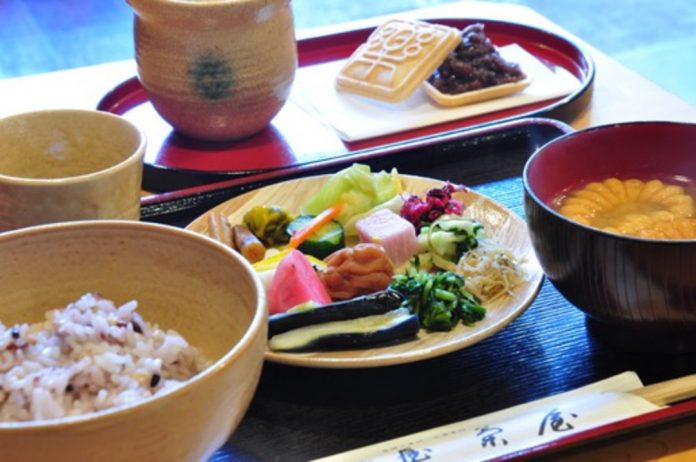 It is not a problem whether you are a tsukemono lover or first timer as long as you're interested in tsukemono. What we recommend is, for the lover, to eat until you feel fed up with it. For first-timers, not to learn, but to try.
These 3 all-you-can-eat tsukemono restaurants are worth checking. Where do you want to go the best?
When you enter the restaurant, 20 types of tsukemono will attract your eyes. Try every vegetable from a popular cucumber to a unique yam. It is nice that not only the tsukemono, but also rice, okayu rice porridge, miso soup, monaka and teas are included in the all-you-can-eat service.
The location is another merit for your visit. Akoyachaya stands on the center of one of the most popular sightseeing areas in Kyoto. There are many cites like Kiyomizudera temple, Yasaka Shrine and Kodaiji temple. So, check this restaurant for your brunch, lunch or break.
Price:
1,450yen / adult
Open:
10:00 a.m. to 5:00 p.m.
Access:
5-minute walk from Kiyomizu-michi bus station
Shibatsune was originally an old tsukemono shop which was established about 90 years ago. You'll enjoy various kinds of "professional" tsukemono there.
Another feature of this restaurant is that they serve Japanese beef and dried fish when you pay more. So, it's not a problem even if your friend is not interested in tsukemono. Enjoy the simple Japanese meal!
The location is also convenient. It is near Nijo castle, which is one of the must-visit place in Kyoto. This Shibatsune is recommended after the sightseeing of Nijo castle.
Price:
1,000yen for Rice set (other menus available)
Open:
10:00 a.m. to 4:00 p.m.
Access:
Right over from Horikawa-shimochoja bus stop
This is one of the shops owned by "Nishiri", a tsukemono master. Actually, there is a tsukemono gift shop near this restaurant. You'll have the Kyoto brand's tea and miso soup with Nishiri's high-quality tsukemono. It is fun to select your rice bowl, first.
Tsukemono, rice, rice porridge, and the tea are an all-you-can-eat service. It is a cozy small space with just 10 tables, so you'll have a relaxing tsukemono moment.
This restaurant stands at Gion, a geisha district which is the center of the Kyoto sightseeing area. When you travel to Kyoto, you cannot miss this Huudo-Shokuhin.
Price:
1500yen / adult (80min.)
Open:
11:00 a.m. to 7:00 p.m.
Access:
A few-minute walk from Keihan Gion-Shijo station
Do you have any tsukemono recommendations for your friend and the first-timer? Please share your favorite one at the comment below!