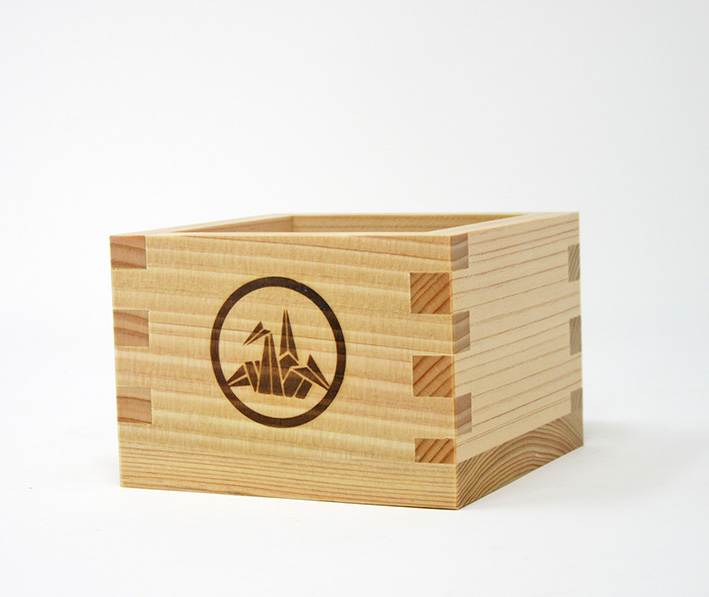 Let's say "kanpai" and make a toast with your own Japanese Masu, the wooden sake cup! Isn't it a perfect way to start your next party and the great photo op with your friends and family? Even the same ol' sake taste completely different. Your sake drinking experience would never be the same.
Share a Masu square with your partner, friends and family
A Masu is not an ordinary cup in Japan. It's for cerebration and parties. Or, you can enjoy the sip to make quiet jazzy nights with your partner even more relaxing. Whenever you share drinks, Masu adds an extra feel to it.
It would be even better if you put a your own design to turn your Masu into a unique piece.
When you order a unique Masu at Masukobo-Masuya, you'll notice you have lots of options. You have three ways to design your Masu: branding, silkscreen printing with colors and laser engraving. The Masus have various sizes and all kinds of design, from kanji characters to pictures, can be drown on your Masu.
For example, how about adding your kanji name on the Masu?
Rely on the professional for your unique Masu
Professionals in Ogaki city, Gifu pref. make your Masu by hand. Ogaki city is, so to speak, the holy city of Japanese Masu because it covers 80% of domestic Masu production.
We hear that the original Masu we see today was already used around 1,300 years ago. People have used it for measuring food and drinks, like rice and sake.
Very few Japanese people measure foods with a Masu today, but it is alive as the metrological standard "gou" and "shou".
How do you use Masu in daily life?
Do you like Japanese sake? If so, it's fun to drink sake with a Masu at dinner. You'll look like an extremely cultural Japanese person!
Or if you like Japanese interiors, Masu should be a good item to add to your gallery.
If you want a unique Masu or want to know more about it, contact Masukobo-Masuya (info@masukoubou.jp).
If you want your kanji name first, check out the hanko making service!
Basic info.
Address: 岐阜県大垣市西外側町2丁目8番地
Open: 9:00 a.m. ~ 6:00 p.m. on weekdays
Access: 10-minute walk from Yoro Nishi-Ogaki station
Contact: info@masukoubou.jp