Machiya is an old-style Japanese house that is popular for those wanting a special stay in Kyoto. However, it not only a place to stay, but it is also where you can have a special lunch and dinner. Its a fun and relaxing atmosphere. This page shows ramen, Chinese and Italian food restaurants in Kyoto, which house is a machiya. Which one do you want to try the most?
Sugari (すがり, Ramen)
Sugari is one of the high-rated ramen restaurants in Kyoto among the passionate ramen fans. You'll be able to find it on a small street near Karasuma station.
The popular menu is a "Tsukemen (つけ麺)." You will dip the noodle into the strong soup when you eat. Ramen in a machiya house would be a unique lunchtime experience. The ramen bowl is not same as ordinary ones, neither. It matches the machiya interior very well.
Takakura-Nijo, who runs Sugari also has some other ramen restaurants. Each has different features, and they are very popular in a ramen city, Kyoto. Check out the map at the bottom of the page, select one to try, and then you're ready to go.
Open:
11:00 a.m. to 3:00 p.m., 5:00 p.m. to 10:00 p.m. on weekdays
11:00 a.m. to 4:00 p.m., 5:30 p.m. to 10:00 p.m. on weekends and holidays
* Closed on December 31st to January 3rd
Access:
10-minute walk from Hankyu Karasuma (烏丸) station
Budget:
around 1000yen / adult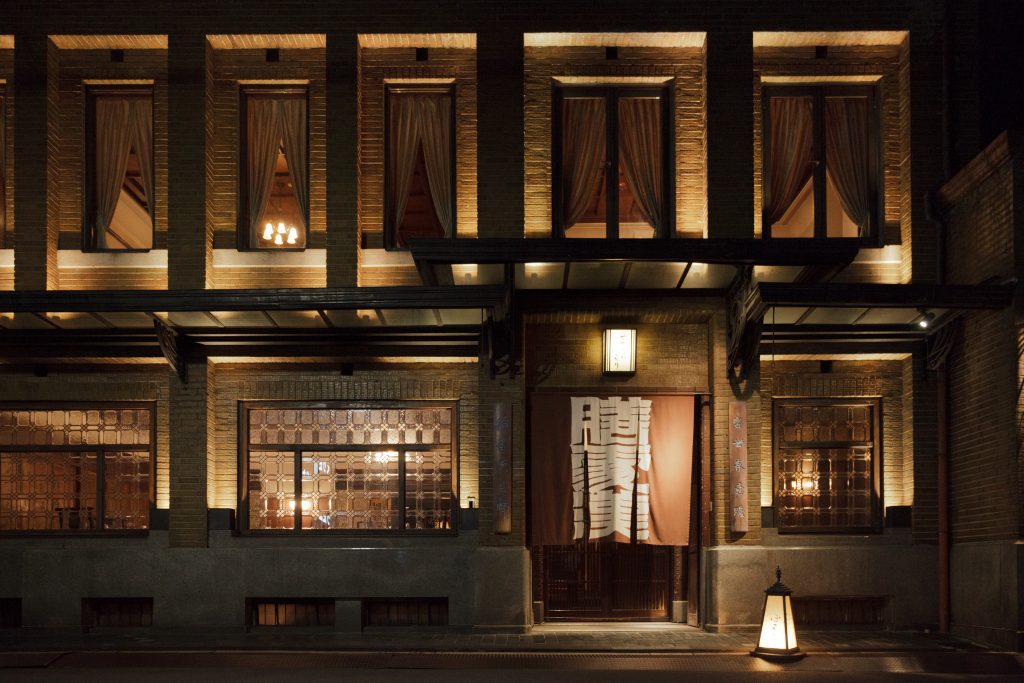 This is a unique-look Chinese restaurant. The exterior is European, and the interiors are Japanese. They serve course meals and single plate meals like fried rice. It accommodates around 50 guests so it can be used for a party to host a dining date. Also, there is a bar named "Pocchiri." It is not only for the dishes, but also the drinks, here you'll enjoy the mixed atmosphere of China, Europe, and Japan.
By the way, Pocchiri is a nickname of Maiko's sash clips. It is very Kyotoish, isn't it?
Open:
11:30 a.m. to 3:00 p.m. for lunch (Last order by 2:00 p.m.)
5:00 p.m. to 10:30 p.m. for dinner (Last order by 9:30 p.m.)
5:00 p.m. to 0:00 a.m. for the bar (Last order by 11:30 p.m.)
Access:
5-minute walk from Hankyu Karasuma (烏丸) station
Budget:
1500yen to 5000yen / adult for lunch
10000yen / adult for dinner
* The open hour and the prices of the menu could be changed without notice.
Obase (Obase, Italian restaurant)
The restaurant name "Obase" is derived from the name of the owner and chef. He pulls out the relaxing machiya atmosphere with delicious Italian dishes.
He is especially passionate about using Kyoto's local vegetables as ingredients. He communicates with the farmers directly and selects fresh seasonal foods. Furthermore, all the dishes are served on elegant Kyoto's Kiyomizu tableware. Wouldn't you agree, there is no better place to fully taste the attraction of Kyoto?
When you have your dishes on the ground floor, there is a counter table where you can talk with the chef. If you want to have table seats, you will find them on the first floor.
Open:
12:00 p.m. to 1:30 p.m. (Last order) for lunch
6:00 p.m. to 9:30 p.m. (Last order) for dinner
* Closed on every Wednesday and two days randomly per month
Access:
A-few-minute walk from Subway Kyoto city hall (京都市役所) station and Keihan Sanjo (三条) station
Budget:
5000yen / adult for lunch
10000yen / adult for dinner