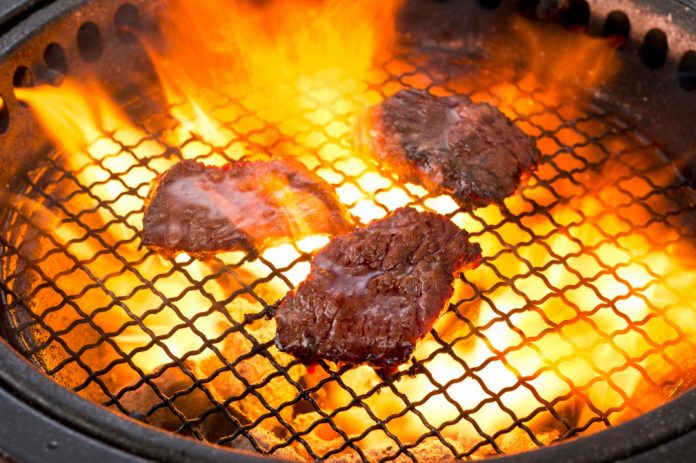 Osaka is well-known for gourmet food, like Takoyaki and Okonomiyaki. But, did you know Osaka is one of the hottest yakiniku cities in Japan?
This page will show you a very popular yakiniku chain restaurants "Jonetsu Horumon" (情熱ホルモン), "Gyukaku (牛角)" and "An-An (安安)."
It is actually hard to find a local good yakiniku restaurant. So why don't you think about having a "delicious, guaranteed" yakiniku?
"Jonetsu Horumon," called "Jo-Horu" in short has over 60 restaurants in Japan. Particularly, there are about 30 restaurants in Osaka. They always serve 20 to 30 types of meat dishes on their menus. Their specialty is "Horumon" which is a kind of beef, it's actually entrails (please, don't twist your face!!!).
You'll enjoy each texture, taste, and alimentation. Iron and vitamins are high in Horumon. Therefore, it is a popular dish among women.
Nearest Jonetsu Horumon from Osaka station
Name:
Umeda Sakaba Jonetsu Horumon (梅田酒場情熱ホルモン)
TEL:
06-4709-6363
Open:
5:00 p.m. to 5:00 a.m (Mondays to Saturdays)
4:00 p.m. to 5:00 a.m (Sundays to holidays)
"Gyukaku" is one of the most well-known yakiniku restaurant brands. It has the most restaurants all over Japan. Notably, young people often visit here. They serve several types of menus from vegetables to meats, and the all-you-can-eat menu is popular, too.
When you don't know which yakiniku restaurant to start with, you won't regret trying Gyukaku first.
Nearest Gyukaku from Osaka station
Name:
Hanare-Hankyu-Higashidori (はなれ阪急東通り店)
TEL:
06-6315-9129
Open:
4:30 p.m. to 0:00 a.m
This yakiniku restaurant is proud of its overwhelming reasonable prices. Their main location is Kanto like Tokyo and Kanagawa, but you have the chance to enjoy their reasonably priced yakiniku menus in Osaka. Our recommendation at An-an is the beef ribs.
They also have an all-you-can-eat option, so An-an is the best choice when your body desires meats even if you are short on money.
Nearest An-an from Osaka station
Name:
Umeda-Higashidori (梅田東通り店)
TEL:
06-6363-1129
Open:
5:00 p.m. to 11:00 p.m. (Weekdays)
5:00 p.m. to 11:00 p.m. (Weekends and holidays)
Other Osaka attractions?
We've introduced "W Market" in the deep Osaka area, Shinsekai. Enjoy yakiniku after you've finished Osaka sightseeing!