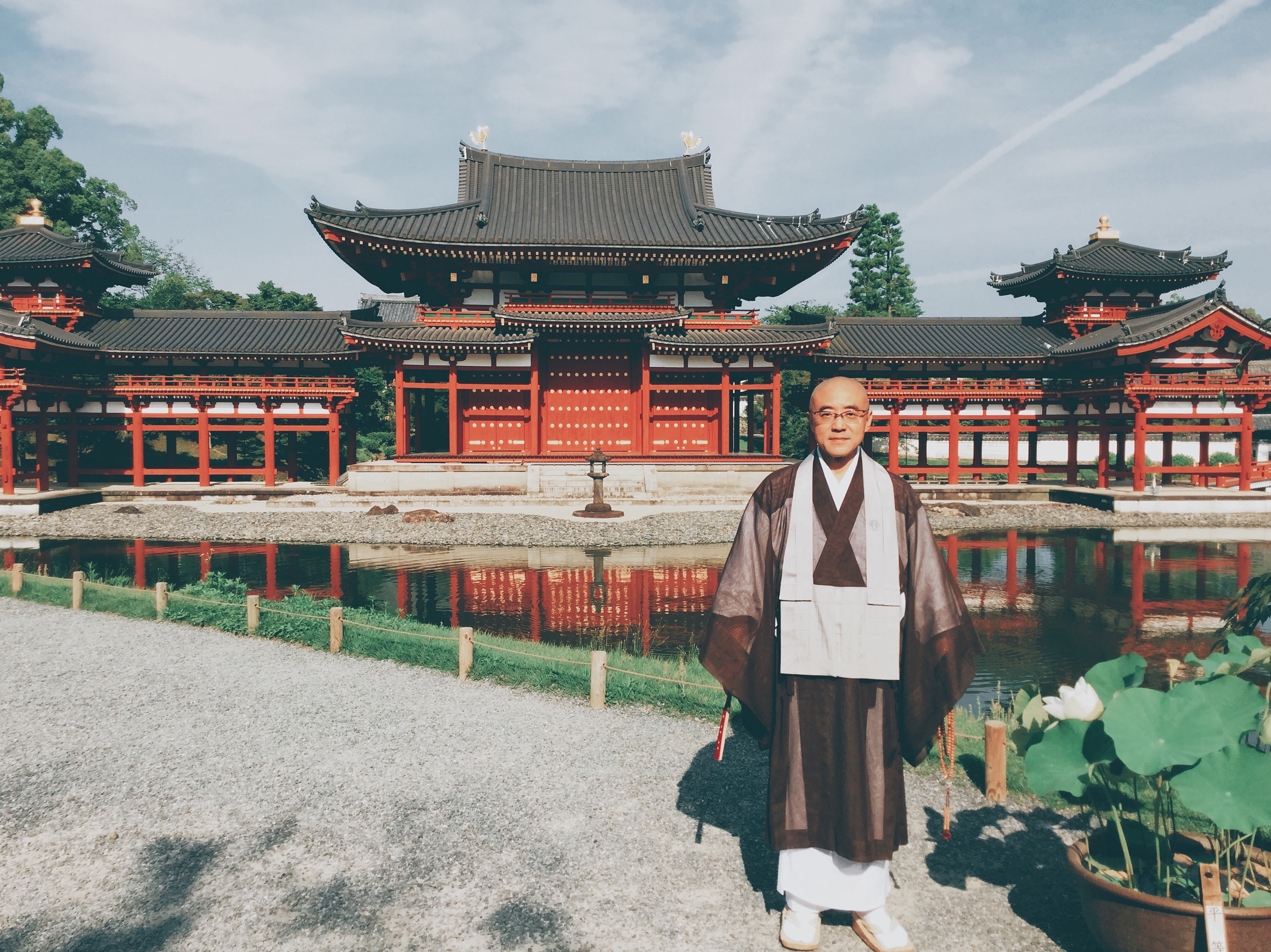 Today we introduce Byodoin temple in Kyoto. It was registered as the World Heritage Site 1994 and has been tea town Uji's pride.
Monsho, the Head Priest, and Saki, the temple's staff guide you!
The Phoenix Hall, "a theme park 1000 years ago"
Phoenix Hall, one of the most famous Japanese architecture is so to speak "a theme park 1000 years ago", according to Saki. What she means is that whole the Byodoin is the "real paradise" which was originally described on Buddhist sutra. It is only for showing its overwhelming silhouette and has no practical function. So, it needs the special maintenance once about 50 years.
Phoenix Hall keeps its beauty for a thousand years thanks to the maintenance, and 10-yen coin has an illustration of the Phoenix Hall. Also, the phoenix statue on top of the roof is illustrated on ten thousand-yen bill.
The Japanese garden with seasonal flowers
Byodoin temple has its unique flower, "Byodoin lotus" in summer. Actually, Byodoin's garden has each seasonal attraction and holds light-up events in spring and fall. Both the cherry blossoms and fall leaves give us the breathtaking scenery.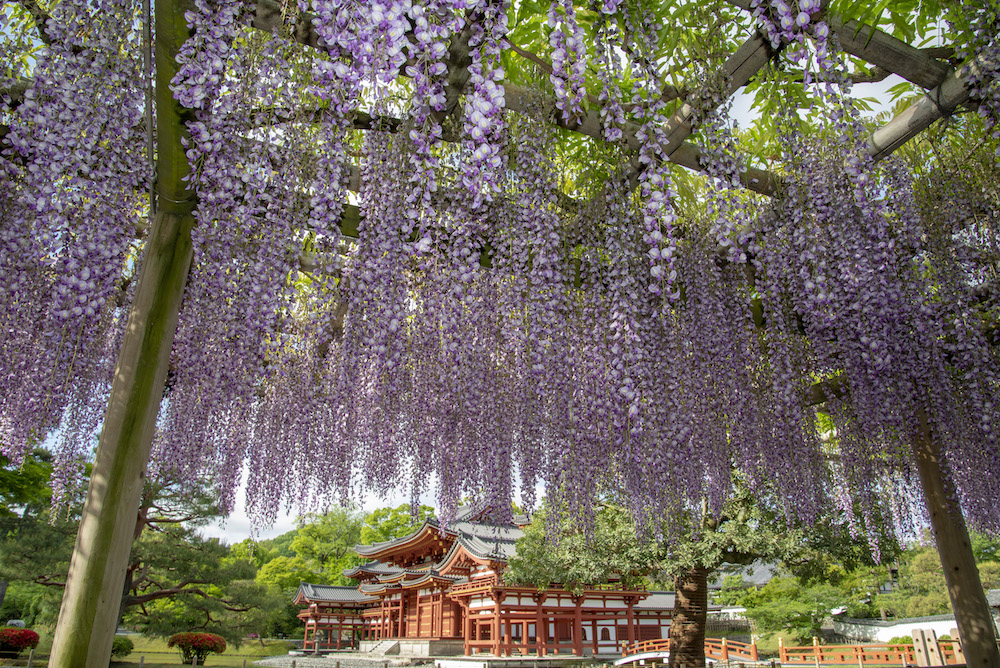 Monsho loves the wisteria season from the end of April to the beginning of May, though. He says "the silhouette of the Phoenix hall over the purple curtain is magnificent"!
Place where the first Harakiri was done?

You can find the fan shaped field at the corner of the garden. We hear that it is where the first Harakiri was taken place by a famous samurai.

The official cafe, the richest location to enjoy matcha
"Sabou Toka", the Byodoin's official cafe waits for your visit after sightseeing. Uji city where  Byodoin is located is one of the most famous matcha areas and they offer the highest quality one to you. How about enjoying the green tea time in the World Heritage Site?
Which statues do you like the best?

Before visiting the cafe, you'll enter Byodoin Museum. The highlight would be the original phoenix statues about 1000 years ago. They are the national treasures. Bodhisattva statues playing instruments are also very popular among tourists.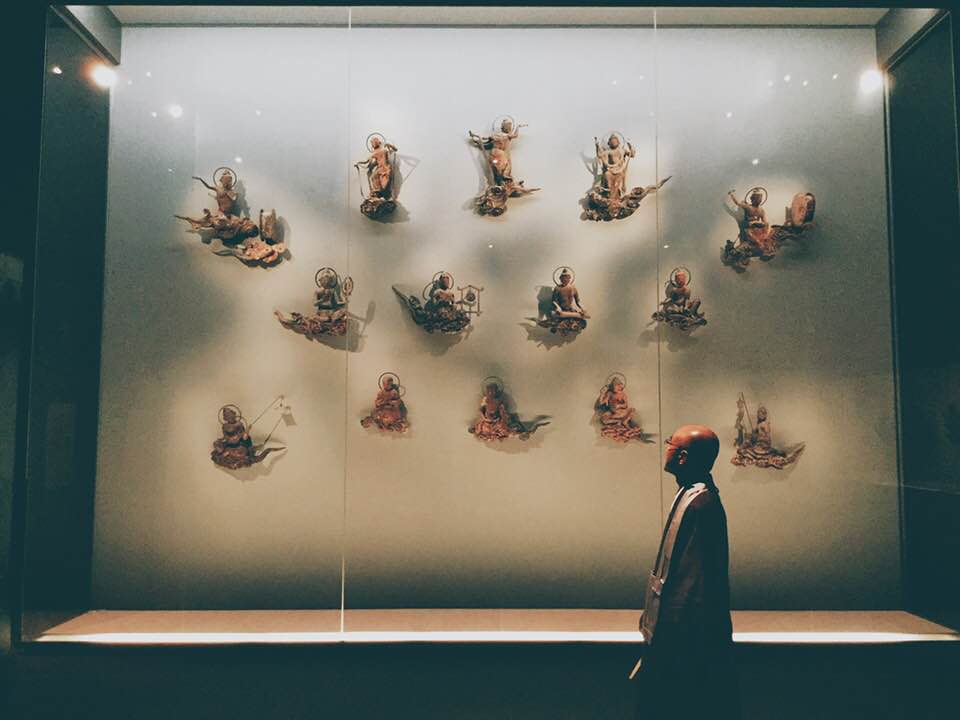 The Phoenix hall, Japanese garden and the richest tea time at the cafe give you an unforgettable World Heritage Site memory. When you visit Kyoto, add Byodoin temple to your list!
This is the Goshuin seal given only at the temple.
If you're a kanji lover, this Japanese hanko service should be perfect!
Basic info.
Address: 京都府宇治市宇治蓮華116
Open: 08:30am to 05:30pm
(Some facilities have different schedules. For more details, enter the official page.)
Entrance fee: 600yen/adult
Event schedule: Special Light-up on November 17th, 18th, 23rd, 24th, 25th, 30th, 31st, December 1st, 2nd  from 06:00pm to 08:30pm (Admission closed 08:15pm)
Event entrance fee: 600yen/adult
Official page: https://www.byodoin.or.jp/en/